Private Petting Farm Tours!



A unique, once in a lifetime experience... captured in photographs, frozen in time. The essence of the special moments will be fondly reminisced, long after the child is grown...

Bring your family for a private tour to visit a tranquil Upper Bucks County farm, surrounded by acres of open space and nature. Your family will experience all the fun of visiting and meeting up close friendly and clean animals in their natural environment, all while being discreetly photographed in mostly candid moments, capturing the essence of the moment of the soft nose nuzzling your hand, or the joyful giggle when the goat bleats or donkey hee haws. Along with pictures of farm poses for a unique family experience and amazing memories!

Sleepy Hollow Farm offers private farm tour visits for your family with both posed and candid photos taken during your unforgettable experience down on the farm!
During your private tour, children receive a mini pony care lesson and pony ride. Come into the grassy pastures to meet the gentle woolly sheep, exceptionally friendly goats, quack with the ducks, learn how to hold a gentle miniature chicken, collect eggs, come into the rabbitat and pet as many bunnies as you'd like, stroke the gentle friendly donkeys, laugh at the antics of the alpacas and much more! Photographs of your kids and family are taken during all these experiences and many more magical moments with nature as the perfect background.

Reservations are required and are weather dependent. Mid to late morning times generally offer the best lighting.
Farm Photo sessions are generally offered weekdays April, May and June along with October and November depending on weather.

We look forward to meeting you!

Schedule a Farm Fun Photo Visit and bring your family to the farm! Lots of creative poses and candid professional quality pictures of your children and family enjoying their personal, private farm tour!

Children will have the opportunity to see and experience activities only available on the farm including: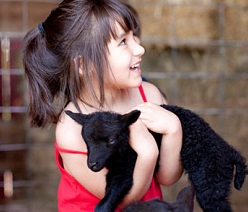 meet the gentle and inquisitive petting zoo animals


A Mini My First Pony Lesson and a Pony Ride


come inside the rabbitat playpen to pet and be photographed with our many soft bunnies


collect freshly laid eggs


sit on a real tractor


feed the chickens and ducks


enjoy the chance to meet unique and exclusive animals only available at the farm!

Farm Tour Family Photography packages start at only $275.00! This includes up to four people- two adults and two children, at least 100 professional quality photographs provided to you on a disk and all the unique animal and farm acitivities listed above along with many more. Private tours are generally an hour to 90 minutes, depending on family size.
Choose to upgrade your pony and mini pony lesson to a Magical White Unicorn for a small additional fee!

Please email for more details or to reserve your private date to visit the farm and all the special petting zoo animals up close.

Pony rides and farm petting zoo animals may be rented for any special holiday or special event!
From donkey rentals for Palm Sunday, Cinco Di Maio and Christmas Live Animal Nativity Scenes, lambs for Easter Sunday, petting zoos for Blessings of the Animals and any other family event you may have in mind.

Reseravtion request form for Sleepy Hollow's Mobile Traveling Friendly Animal Petting Farm Zoo and Pony Rentals!

For a most unique farm experience, please contact us for your Petting Zoo Farm Visit .